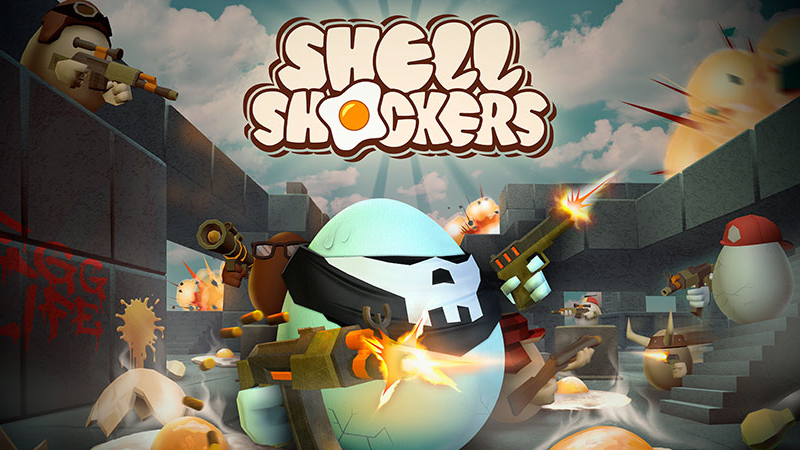 Desktop exclusive game only!
A multiplayer FPS game featuring egg characters. In the game, the player takes control of a violent egg armed with a shotgun and enters the arena. It is a real-time multiplayer game featuring battles with other players from around the world.
Blue Wizard Digital has brought a fun new title to the io genre and the name of the game is egg combat. Jump into the game and select your character name, egg type and game mode. In this game you must work hard to protect yourself and dish out damage to opposing eggs. Try out each game mode and see if you can conquer the shell shockers arena. Some gamers even stream their gameplay live so you could become famous!
Game modes
There are three awesome game modes to pick: free for all, teams, and capture the spatula:
Free for all pits you against everyone else in the arena: every egg for themselves.
Teams allow players to fight with other fellow egg players and try to eliminate the opposing team. It's a no-holds-barred deathmatch where only one team of eggs can win.
Capture the spatula is a fun twist on the famous capture the flag mode.
Weapons
Players can pick from 6 different egg classes: scrambler, free ranger, eggsploder, whipper, crackshot and soldier. Each class has a different weapon and varied skills. Crackshot, for example, carries a sniper rifle and has excellent accuracy. Alternatively, eggsploder wields a deadly rocket launcher and has maximum damage output. Other notable weapons include the machine gun, and a rifle a shotgun. Players must utilize different skills to use the various items. For example, a machine gun requires great accuracy, whereas a shotgun is a close quarters weapon.
Developer
Shell Shockers is developed by Blue Wizard Digital (formerly known as the Egg and Dairy Ministry of Belarus). They have also developed other games such as Slayaway Camp and Space Tyrant.
Release Date
September 2017
Platform
Web browser